So, my friend Aaron, aka aquaticpotato3677, happens to be a bus nerd, specifically the kind of person who likes exotic services. So, on the 12th of August, he decided to drag me to spend a day on GATRA, a rural bus operator on southern Massachusetts. The goal: ride every one of GATRA's "Go"1Apparently an abbreviation of "GATRA On Demand", somehow. services, which are their microtransit services. With Aaron's knowledge of local transit schedules, a grand plan was constructed:
Geographically, this plan forms a figure 8 through southeastern Massachusetts, with Wareham at the bottom, and Brockton at the intersection. There was an alternative around Wareham to get the CCRTA, and at the bottom is a plan B in case we ran late.
Background and overview
Before we begin, it is important to know what we were riding. We'll go over a description of the different agencies, along with a little insight into the planning process.
This section is written by Aaron
So, an overview of the theming of this trip, the GATRA GO. The initial service was first added in 2019 in the Foxborough-Mansfield area, today's Patriot Connect. You can see Miles' review of it here, where he outlines how most of the service area is in a straight line, how a lot of it is woods, making it perfect for… a fixed route.
Fast forward to the end of July this year, I was making my waste-of-time rounds through various agency websites, when I saw that GATRA added 3 more GOs, apparently as early as late 2020, and I hadn't noticed! I hadn't ridden any of them before, so this was the perfect time to do a fancy trip, where we would attempt to ride all 4 GATRA GOs in a single day. Of course, I had to drag along Meir (Meirk), because I knew of his distaste of riding buses all day…
What is the GATRA GO?
As mentioned, the GATRA GO is GATRA's microtransit service. What is microtransit? you may ask. So, essentially, microtransit is a form of on-demand bus service whereby you book a ride between two destinations within short notice, like a taxi. A program is tasked with pairing rides from similar locations, like carpooling. All of this happens within a defined geographical area and is offered with a (cheap) fixed price. The service is usually booked via a dedicated app, reducing usability and convenience.
Currently a microtransit wave is sweeping across Massachusetts, with many rural bus operators and municipalities setting up such services, either as a supplement or as a replacement for (usually infrequent) regular routes.
A final note about microtransit is that it is often poorly communicated. Many operators do not display it prominently on their website or on their system maps. In addition, pathfinding services (Google Maps, Transit) often skip over them. The app is not particularly great for single uses either.
Agencies
The main agency this trip featured, of course, is the wondrous GATRA. This is an abbreviation of Greater Attleboro Taunton Regional Transportation Authority but missing a T, because GATRTA doesn't sound as nice as GATRA. GATRA has a sprawling service area from Franklin and Medway in the west, to Scituate in the east, or as Meir says, "places that are definitely part of Greater Attleboro/Taunton". GATRA operates a few disconnected systems, in Franklin, Attleboro-Taunton, Wareham, Plymouth, and Scituate. The system is famous for route deviations into shopping plazas, and senior centers, using truck minibuses on most of its routes outside of Attleboro/Taunton, and of course, insanely low ridership. Its busiest route in FY2019, the 10, got 186 riders per day, with its lowest ridership route, the Link 3, since being merged into the Link 2, getting… 3 riders per day.
Other than that, we have the BAT, Brockton Area Transit, which runs good service in the city of Brockton, connecting to the MBTA Red Line at Ashmont. It's actually an urban service area, unlike GATRA, and their routes are well-used. Most of its routes use full-sized buses, and, despite having quite a few member communities, there are only a few routes that really serve places other than Brockton: the 14 to Stoughton and Canton, the RF to Rockland and Abington, and the 12 to Ashmont via Avon.
BAT is notable for running a "pulse" system, where all of its Brockton routes arrive and depart from BAT Center at the same time, every half an hour, allowing for highly convenient transfers.
There's also the MWRTA, which stands for the MetroWest Regional Transportation Authority, serving mostly the Framingham and Natick area, as well as Marlborough/Hudson, and a connector route to the MBTA Green Line at Woodland. It runs exclusively minibuses, and is just as deviatory as GATRA, though much less rural, and somewhat more coherent. It has three major hubs, with almost all routes serving the Natick Mall, and the Framingham routes serving Banana Lot, while the Natick routes mostly serve Blandin Hub.3This is quite annoying, as they are only 12 minutes apart by walking. Consolidation would be nice.
The CCRTA was only listed as an alternative, but I'll mention it here as well. It's the Cape Cod Regional Transportation Authority, serving all of Cape Cod, from Bourne and Sagamore to Provincetown. Despite being in such a touristy area, they do have relatively good year round service, in addition to special seasonal service. They run mostly full-size buses on their fixed routes. A few special things about them are their interesting route names, like the "Barnstable Villager", and the fact that a lot of their routes are long. A one-way trip on the Flex, running from Harwich all the way to Provincetown, takes just under 2 hours.
Planning
When I was planning, I grouped the microtransits into two areas: Franklin, which was the United and Patriot Connect, and Plymouth, which included the Explore and Coastline. Now, the Franklin grouping is easy; their service areas overlap, so you can just transfer (albeit awkwardly) from one to the other. As for the Plymouth grouping, the mix of "best and coolest" I decided on was the Explore from the Hanson MBTA station to either "Stop and Shop/Kohl's", MA 14 @ MA 3, or Summer @ Bravender, where there is a 0-2 mi walk to the SAIL, which you can get to Kingston, where you then need to transfer to the Liberty Link to Plymouth, where you can finally connect to the Coastline. It is surprisingly hard to get between these two service areas without an inefficient out-and-back into Boston,4For those not familiar with the area, Franklin-Boston-Plymouth roughly create a right triangle, with Franklin-Plymouth the hypotenuse. which is what my first planning attempt did.
The "coolest", in my opinion, way to go between the two service areas, is, from Franklin to Plymouth, the United to the Woonsocket border, the RIPTA 54 to Providence, the RIPTA 24L to Fall River, the SRTA 9 to New Bedford, the SRTA/GATRA New Bedford Wareham Connection to Wareham, and either the GATRA Link 2 to "7-Eleven East Wareham", or the Link 2 to Buzzards Bay, and the CCRTA Bourne Run or Sandwich Line to Sagamore, where in both cases, you have to walk about 2 miles to connect to the GATRA GO Coastline service area. The schedules for this didn't cooperate, mostly because of the 3-trips-per-rush-per-direction 24L, and the New Bedford Wareham Connection running only 4 times in each direction per day.
Another possibility is walking from the Patriot Connect to the GATRA 18, which gets you to Taunton, but there's no way to get to Middleborough besides relying on the uh… Middleborough-Taunton Connection, which, you can read Miles' interesting review about here. In addition, once you're in Middleborough, you can't get to Wareham until the 2-times-per-rush-in-each-direction Middleborough/Lakeville Train Connector, which gets you to Wareham too late to be able to get the Explore and Coastline.
Next, I tried considering an out-and-back style solution, however, this either requires a boring short ride on the Coastline, or a long ride on the Coastline coupled with a coach bus, the Plymouth and Brockton Street Railway Company, back up to Boston. You see, the fare for that was $20, and Meir did not like that… so I had to reconsider.
I went back to trying to cut across, now looking at Stoughton – Brockton – Rockland, using the BAT 14, BAT 5, and BAT RF to get across. This did work, however it led to a boring short ride on the Coastline again,5It has a massive service area, and I really wanted to exploit it. so I reconsidered… yet again. It was around this point that I noticed two random splotches disconnected from the rest of the GATRA GO United's service area. One was at "Unique Smile Dental Associates" in downtown Milford, and another was at "50 Box Pond Road" in Bellingham.
These seemed ripe for exploitation… Now, while "50 Box Pond Road" is in the middle of nowhere, downtown Milford is absolutely accessible by public transportation, using the MWRTA 6 to MWRTA 14. Prior to this, I had been assuming no car use, where we would get to Readville Station to catch the Franklin Line by ourselves, but it turns out that it is impossible to get to MWRTA Blandin Hub at 7:14 am without getting the 5:55 Commuter Rail out of South Station,6Meir did not like that… so we decided on using a car to get to Blandin Hub.
Sounds great right? A fun exploitation of a random patch that's disconnected? Well, a few days before the trip, I opened up the microtransit app and tried booking a trip from downtown Milford… Despite clearly being marked as part of the service area, the app just… refused to let me do so! What made even less sense is that it did let me book from "50 Box Pond Road".
I wasn't too happy with this, so I decided to call up "Kiessling Transit", the contractor for the United. And… they said that it went to Milford, but didn't pick up there! So I tried that, and the app still didn't let me book! So… this is how we ended up walking from Holliston to West Medway, instead of having a seamless transfer. The plus of doing this route rather than just going back to the Franklin Line route is that a. this is cheaper, b. you use yet another transit authority, and c. you get to take the United for longer, because it also has a massive service area that I wanted to take as much as possible of.
So the out-and-back route and the Stoughton – Brockton – Rockland route were both off the table, so what else could I try to do? I continued looking for ways to cut across, and found that you could cut just enough time to get the prior RF if you managed to make the 7 mile walk from the Patriot Connect to the BAT 3 in an hour and a half.
So that's roughly how we ended up with our final plan, with a CCRTA alternative just to squeeze in an extra transit authority, and a Plimoth Plantation alternative if we were late, involving the boring short ride on the Coastline.7A small side note, if I had more time to plan before the trip, I likely could've come up with a safer plan…
End of section written by Aaron
Trip
MWRTA
We started at Blandin Hub in Framingham. This is the central terminal of the MWRTA. It was under construction, so we boarded from a random canopy in the lot. Aaron tried to live tweet the thing, so expect a lot of Twitter embeds.
Good morning! We're starting out GATRA GO day (where we are trying to ride all 4 GATRA GO routes in one day) a time the Blandin Hub in Framingham. This is a holdover from when we thought we could get the GATRA GO United from Milford, but instead we have to walk 3 mi to connect. pic.twitter.com/22Rzk1aXHb

— Aaron (@aquaticpotato71) August 12, 2021
Our first bus of day, the MWRTA 6. pic.twitter.com/Vo4GSMOwx7

— Aaron (@aquaticpotato71) August 12, 2021
We departed from Blandin on the 6, on time. Despite the MWRTA accepting CharlieCards, they did not collect fares, probably due to Covid. This bus would take us from Framingham to Holliston. On the bus we were worried about GATRA screwing us up since we didn't know what the GO would be like. We got off at the intersection of routes 126 and 16, just south of downtown Holliston, on time.
With the exurban scenery around, we began our first walk of the trip, a ~5 kilometer walk,83.3 miles to be completed at slightly above walking speed. The town of Holliston did not provide us with sidewalks, unfortunately. But, right as we crossed into Medway, a sidewalk appeared!
Sidewalks in Medway! (Holliston did not provide us with any) Also cows in Medway! pic.twitter.com/Rzg8l7zmnq

— Aaron (@aquaticpotato71) August 12, 2021
As evidenced by the tweet, there were also some cows, and geese. We passed right by West Medway… and then was the exciting moment, the GO.
GATRA, part 1
Waiting just across the Franklin border for the GATRA GO United pic.twitter.com/o25KWRN6hk

— Aaron (@aquaticpotato71) August 12, 2021
In the first instance of complete abuse of microtransit, we were going to take this GO, the GO United, from one edge of its service area to the other, this being right across the Charles River from West Medway in Franklin, to the Foxborough Commuter Lot, near Mansfield. This is a healthy distance of 20km912.6 miles. air-line.
When booking on our way, the app said it would arrive nearly an hour behind schedule, but later the time shifted sooner. We arrived at the pickup location at 8:28, eight minutes behind the plan, quite concerning considering this is a walk. The bus arrived at 8:45, 20 minutes behind plan. We paid the $2 fare (each), and got on, the driver was a bit stressed, probably since no one takes this service from these locations and for such distances. We spent large amounts of time on the highway, a fun thing to do on a truck minibus with a jiggly wheelchair.
Arrived at the Foxborough Commuter Lot (GATRA used to run a shuttle here), picture of the United from onboard the Patriot Connect. Bus was later than we wanted but made up most of the time. pic.twitter.com/hNcUTPjZMe

— Aaron (@aquaticpotato71) August 12, 2021
We arrived at the commuter lot at 9:18 (8 minutes behind), and immediately jumped on the next Go, the Patriot Connect, which Aaron made sure to book on the way. GATRA doesn't appear to have transfers between GOs, so we paid the fare again. I suspect it must have been extremely weird to watch people transfer from one microtransit to the next…
We were going to take this GO from the Foxborough Commuter lot to "Easton Concrete Cutting and Drilling" on the edge of Mansfield, since GATRA does not serve Easton.
It was a fine ride, and the seats on the bus seemed nicer and the wheelchair lift jiggled very little. Of note, this service was from a different contractor and so used a different app. We arrived at "Easton Concrete Cutting and Drilling" about 4 minutes ahead of schedule. Before us was a 6-7 mile walk across the municipality to get to the coverage zone of BAT. Everything seemed fine.
As you can see from this graphic, things did not go fine… First of all, the town of Easton, like the town of Holliston, provided us with little to no sidewalks, except this time, the entire walk was in the town of Easton and twice as long. [sigh] This is also combined with the hot and humid weather that day, me forgetting a hat, and a detour.10We have a habit of planning trips, selecting the date, and then checking the weather…
One could say, the Town of Easton screwed us up.
BAT
We ended up deciding to take the BAT 9, instead of the 3 as planned, which involved less walking.11About 5 miles instead of 6-7. The main problem is that the 9 runs hourly as opposed to the half hourly 3, and so we got one pulse later on the BAT, which would in turn lead us to miss the RF, and significantly delay our plan.
Anyway, back to BAT, we got a facelifted Gillig with nice seats. Fortunately the BAT accepts CharlieCards. Other than the 9 running hourly, we were impressed by BAT's pulse system, performance, the BAT Centre, and fares.
Neither of us took pictures, but to show what we were talking about:
As you can see, the BAT Centre is designed with transfers in mind, as all buses lead to a single large island, and all city routes terminate here. BAT's pulse allows one to transfer from any route to any route easily. At the end of the island there is the terminal building, which we didn't get to check out, except for the BAT-branded MBTA fare machines. Miles has a review of the building here.
While BAT's main system can be certainly described as "European-grade", I have a two complaints. Firstly, it is not timed with the commuter rail, which is to be expected. And secondly, it is small, as the system serves almost exclusively municipal Brockton, and the surrounding towns12cough Easton, among others. get little to no bus service, despite being within the BAT service area.
Anyway, we arrived at BAT Centre on the 9 one pulse late (12 instead of 11:30). Our actual arrival was at 11:47, meaning that the schedule is significantly padded. We proceeded to depart on the 5, on a similar bus, and departed exactly at 12:00. Since all the buses depart at once, you can see the streets near the terminal packed with a line of buses heading to various locations, quite the sight in a small city like this.
Our original plan called for a transfer from the 5 to the RF at Brockton Hospital. The RF, or Rockland Flex, is BAT's one city system bus route that doesn't use the BAT Centre nor correspond to the pulse system, running on 75 minute headways with truck minibuses instead. Later we we planning on catching the Plymouth/Kingston line from Abington two stops to Hanson.
Aaron decided upon taking the 5 to Walmart, slightly further along the route of the RF, and to try to sprint to Abington from there, because we could still potentially make the train we were planning to. The 5 dropped us off at Walmart, and we ran. Since neither of us are good runners, we ran inconsistently and ended us missing the train by about 5 minutes. Ahead of us was an hour and five minutes of waiting… You can't overestimate walking.
GATRA, part 2
The next train finally arrived at 13:43, at this point we knew it would be nearly impossible to catch up to the schedule. The journey two stops to Hanson was swift. From here we planned to take the third GATRA GO of the day, the Explore, serving Pembroke. Aaron made sure to prebook this one too. By sheer coincidence, the bus arrived at the same time as the train, and we exited at the door that the bus was closest to. The transfer was so seamless, I didn't even get a look at the station!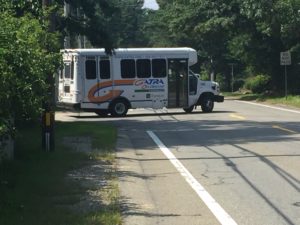 The Pembroke GO got us to West Duxbury,13Summer @ Bravender, if you care. where its service area ends. It was 14:16. We then had an unhurried walk to the Summerhill Mall. On our way, we passed a shop with the sign "we buy toy trains" called Duxbury Green, unfortunately I didn't find much information online about it but it looks like a model railroad shop, how interesting!
At the Summerhill Mall, we weren't sure whether the GATRA SAIL was going to deviate to the mall, and after some waiting, we decided to wait at the intersection.14The driver was not particularly happy with us flagging the bus at an intersection… We got a MiDi, which is a rebadge of the British Enviro 200, for some reason I like these buses. It also turns out GATRA doesn't accept CharlieCards, a bit unfortunate considering I loaded my CharlieCard counting on it.
We took the SAIL to a random street in Kingston,15Smiths Lane @ Crescent, if you care. where we waited a while for the Liberty Link. The Liberty is one direction of GATRA's Plymouth loop.16The other is the Freedom Link. We got a 30ft unfacelifted Gillig without a back door, so a tiny version of a boring American bus…17I should really stop talking about buses to the tram people, shouldn't I.
After passing by Plymouth's currently suspended commuter rail station, we got off the Liberty at Plymouth Center.
Aaron made sure to prebook the Go… and then his phone finally ran out of battery, and my phone decided to not have mobile data that day.18Unfortunately, the idea of restarting it did not come to me until that evening. In a hurried decision, we decided to get on the GO and attempt to make the connection in Wareham without a map, only with directions… Quite risky… 19We even had a backup plan to Plimoth Plantation, why didn't we use it here?
As said, we got on the GO, this one called the Coastline GO and which serves Plymouth. The plan was to book it to 137 Lake View Boulevard in West Wind Shores and make the walk to the 7-Eleven in East Wareham and catch the Link 2, and from there get the last train connector trip to Middleborough.
We got on the GO at 16:02, and they were doing driver training on the trip. Interestingly enough, the wheelchair lift on the bus did not jiggle whatsoever, quite unusual. The driver and trainer did make sure to give us the impression that we were wasting their time on such a long trip (all the way to the far edge of Plymouth) and then proceeding to ask for directions. Frankly I can't blame them, but large microtransit service areas call for such behavior, and either way the trip we made wasn't too unreasonable.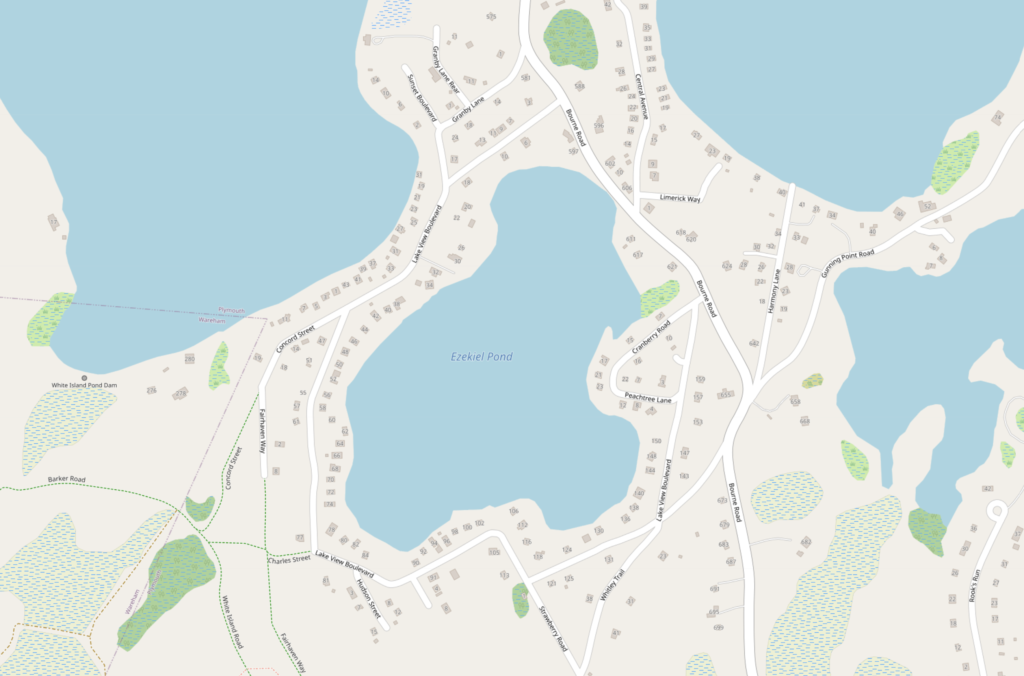 As you can guess, getting this GO to the middle of nowhere with our only way to book it again being by phone call20While we saved the number, that would've been a very complicated procedure. was a fatal decision. The GO dropped us off in the rough vicinity of 137 Lake View Boulevard at 16:25. They did not get to 137 Lake View Boulevard exact since it's apparently on a dirt road. Referencing the map, it can be seen that the local street layout is a nightmare, with two Lake View Boulevards, and our planned path making a large amount of unusual turns.
We ended up asking someone for directions, and only making it back to the main road… Then calling someone to pick us up. Since we relied on a connection to the last Train Connector trip, it would've been impractical to try to get a later Link 2 trip.
The trip failed, but at least we achieved our main goal, riding all of GATRA's GO services in one day. Aaron wants to get revenge on the Coastline GO at some point, taking it without actually getting stuck.
Final Verdict
Since the main goal of our trip were the GATRA GOs, they will recieve somewhat comprehensive reviews. This doesn't prevent quick descriptions of the other services ridden.
This section is co-written with Aaron
MWRTA: Didn't ride a lot, seems alright.
BAT: Great system, but very limited coverage. Please add timed transfers with the RF.
GATRA Plymouth fixed routes: Great that 30′ buses are used, but needing to transfer in an awkward location to make a connection is questionable. Please implement Charliecards, and number routes.
GO United (Franklin)
Contractor: Kiessling Transit Inc.
Serves: Foxborough, Franklin, Norfolk, and Wrentham.
Named because: What GATRA always called this service area.
Routes Replaced: FAB (Franklin Area Bus), North Bellingham T Shuttle, South Bellingham T Shuttle, Tri-Town Connector.
This GO has a massive service area, as evidenced by our 20km trip. This one uses a different app from the rest, certainly an inconvenience. It replaced a massive amount of routes, some rush hour, some full-time. One could say, it "erased routes from the map", and considering how hidden GO services are on GATRA's website, there will likely be a reduction in ridership. The driver also asked for seatbelts, unlike the other GOs.
GO Patriot Connect (Mansfield)
Contractor: A&A Metro Transportation
Serves: Mansfield, Foxborough, and Plainville.
Named because: Serves Patriot Place?
Routes Replaced: Foxborough Commuter Service, Tri-Town Connector.
For the Patriot Connect, as @milesintransit1 mentioned in his review, a lot of the attractions are linear and there's a lot of forest in between.
Then the Coastline struggles with the same "massive service area" as the United, as well as a… not great experience with the driver

— Aaron (@aquaticpotato71) August 12, 2021
This was the initial GO, having a smaller and more reasonable service area than the United. As you can see from the tweet, it's not the best area for microtransit, as its attractions are relatively defined and there's a lot of pure woods rather than exurban density.
GO Explore (Pembroke)
Contractor: A&A Metro Transportation
Serves: Pembroke.
Named because: ???
Routes Replaced: Pembroke Shuttle.
This is one of the GOs we actually kind of like, as it has a well sized service area that doesn't exactly have clear attractions that fixed routes would serve. The Pembroke Shuttle was rush hour only, so this is definitely an improvement in span of service, offering connections in the area during midday.
GO Coastline (Plymouth)
Contractor: A&A Metro Transportation
Serves: South Plymouth.
Named because: Plymouth's on the coast?
Routes Replaced: –
Unlike the other GOs, this one doesn't replace any existing fixed routes, instead supplementing the Mayflower Link and the Manamet-Cedarville Deviated Link.21Despite the name, the Manamet-Cedarville Deviated Link is quite a direct route, though you can call-in and deviate it 3/4 mi off its route. The service area is a little awkward, as it's very large and yet doesn't have any rail links, nor does it connect to any other bus systems. The main attraction in the service area is downtown Plymouth and, of course, Plimoth Plantation. It would be nice if it were possible to make a rail connection (Kingston or Plymouth), or connect to the GATRA Wareham or CCRTA systems. This service certainly has a use case, but is not as practical as it could be.
We can conclude that these services have very random names.
---
Did you like this post? Would you like us to do more posts like that? You live at 137 Lake View Boulevard? Please do not hesitate to contact or comment!