Prologue
Philadelphia, the city of American freedom and independence, tourists randomly being attracted to a broken bell (the city hall is arguably cooler), the city that embarrassingly gets left out when listing major northeast US cities when it is probably bigger than Boston,1About 1.2 million more populous when measured by MSA, but interestingly about 1 million less by CSA. Both should be taken with a grain of salt. has a robust transportation network famous for trackless trolleys trolleybuses,2And also chronic underfunding, and underutilization of infrastructure. and its excellent (albeit shrunken) regional rail, but also includes two3maybe three, or four depending on what you count. strong streetcar systems. One of them, in the city of Philadelphia, involves a classic streetcar subway with many branches, primarily street running, with a random other line running in a separate part of the city with rebuilt PCC streetcars, while the other system, which we'll be covering today, is a suburban feeder that doesn't even enter the city proper.
A note for this post: researching the history was kinda hard, without many good sources, so there may be incorrect things in here, and if you spot any errors, please comment or email us.
If you don't know about Tram Review, you can visit the about page. 😄
Overview
This mini-system is 11.9 miles long419.2 kilometers and has two lines, serving the southwestern suburbs of Philadelphia, a major, historical city in the southeast corner of Pennsylvania in the Northeastern United States. The lines, numbered 101 and 102, start together, heading southwest from the 69th Street Transportation Center, a major transfer hub just outside the city limits of Philadelphia, and share a trunk for about 2 miles to Drexel Hill Junction, where they split, with the 101 heading 6.7 miles west to Media and the 102 heading 3.3 miles south to Sharon Hill.
Between 69th Street and Landsdowne Avenue, the line runs on the sides of roads, not median running as is typical. Between Landsdowne Ave and Drexel Hill Junction, the line gets its own right of way, although it isn't grade-separated. From Drexel Hill Junction to Providence Road, the 101 is still on its own right of way winding through the suburbs, but becomes single track between Woodland Avenue and Pine Ridge Road. For the last half mile in Media, the 101 runs this strange single track street running where the tracks are just stuck in the middle of the road, with cars using it as necessary to get around parked cars. After passing through the dense downtown, the line awkwardly stub ends in the middle of the street. As for the 102, it has its own double-tracked right of way from Drexel Hill Junction to Springfield Road, where it runs a traditional two-tracked street running setup until North Street, where it regains a single track right of way to the stub end terminus at Sharon Hill.
The line uses 29 53-foot high-floor non-articulated Kawasaki cars, similar to the ones used on the urban Subway-Surface lines in Philadelphia, although the 101/102 use pantographs instead of trolley poles, and are double ended. The track gauge is Pennsylvania Trolley Gauge, or one of them at least, because apparently Philadelphia uses 5 ft 2 1/4 in (1581 mm), while Pittsburgh and New Orleans5Not in Pennsylvania use the slightly wider 5 ft 2 1/2 in (1588 mm).
Schedule table time!
| Service: | 101 (Media) | 102 (Sharon Hill) |
| --- | --- | --- |
| Start Time: | 4:03 | 4:24 |
| End Time: | 1:43 7 | 2:20 |
| Morning: | 20-15 minutes | 15 minutes |
| Rush Hour: | 4 and 1589 | 15 minutes |
| Midday: | 30 minutes10 | 30 minutes11 |
| Evening: | 30 minutes | 30 minutes |
| Weekend: | 30 minutes | 30 minutes |
| Weekend Evenings:12 | 60 minutes | 60 minutes |
You can see the branches each have less than optimal service, with 15 minute rush hour service not very good for light rail, but this is probably tightly restricted by the long stretches of single track on the system. Stop spacing is also a problem on this system, with many stops less than 500 ft apart.13150 meters, unfortunately pretty typical of SEPTA on both buses and streetcars.
Fares are $2.00 with a SEPTA Key card, with one free transfer and then $1.00 for transfers after that, or $2.50 with cash with no transfers, always collected when boarding.14They were collected when boarding going inbound and when getting off going outbound prior to 2014.
History
Early History
The beginnings of streetcar service in the western suburbs of Philadelphia15That have to do with the 101/102 at least, research for this post has been incredibly spotty. date to in 1859, when the Delaware County Passenger Rail Road Company built and operated a short horse car line along the Philadelphia and West Chester Turnpike,16Today's West Chester Pike and PA Route 3 though service ended in 1865. The next company to operate along this corridor was the Philadelphia, Castle Rock, and West Chester Railway Company in 1895, which operated with steam dummies. Shortly afterwards, the Philadelphia and West Chester Traction Company was formed to electrify the line, with work completing in 1896. In either 1898 or 1899, the line was completed to West Chester.
In 1899, the company was bought by Abraham Merritt Taylor, who worked in "real estate and railway stocks and bonds". Unlike the Van Sweringen brothers, Taylor was not purely interested in transit for profit, but also as a service to the people, creating this expansive plan for transit in the Philadelphia area when he was the City Transit Commissioner from 1912 to 1916. 17However, he definitely had other interests with building more rail lines, as he also created a company, the Eureka Light, Heat & Power Company to sell electricity to suburban homeowners besides real estate investments. The Ardmore and Llanerch Street Railway Company completed a branch to Ardmore in 1902, which the Philadelphia and West Chester bought on opening. Next, in 1904, Taylor created the Philadelphia and Garrettford Street Railway Company, which ran to Collingdale, halfway to Sharon Hill, starting in 1906-1907. 18He also apparently wanted to run his streetcars into Center City, Philadelphia's dumb name for downtown, directly on the Market Frankford Line's tracks. After that, the 101 was built to Media in 1913, and the modern day 102 was completed to Sharon Hill in 1917. These lines were essential to Deleware County's rapid growth as a major streetcar suburb in the early 1900s.
After serving as City Transit Commissioner, Taylor returned to his private transit companies in 1919, as well as working at the Springfield Real Estate Company, which developed land in Springfield, just east of Media. He established the Aronimink Transportation Company in 1923 for bus transportation in the same service area, supplementing the trolleys. He retired in 1932, passing the companies to his son, Merritt H. Taylor.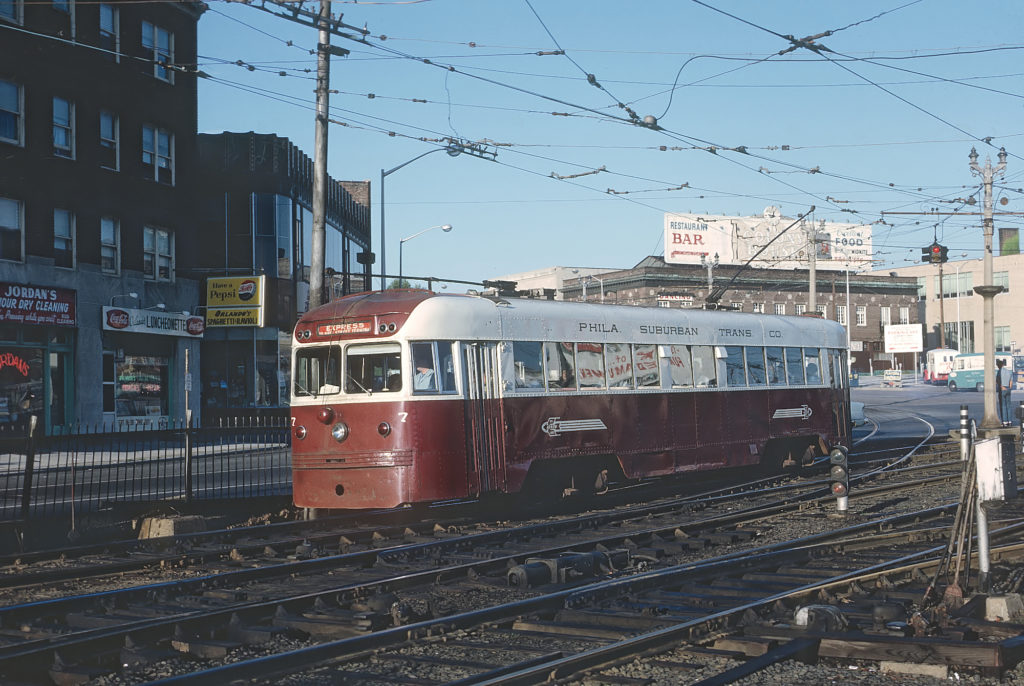 Philadelphia Suburban Transportation Company
In 1936, all of Taylor's companies finally merged into the Philadelphia Suburban Transportation Company. While other streetcar systems around the country were falling to the automobile and buses, this one kept growing, absorbing the failing Philadelphia and Western Railroad in 1953. The two new lines were the "main" line to Strafford and the "branch" line to Norristown. There are quotes there because in reality, their importance were reversed. These lines have quite a few of their own quirks, but those are for another post.
Although the company did much better than other private transportation companies around the US at the time, it wasn't completely immune. In 1954, streetcar service on the original line to West Chester was cut back by more than half to Westgate Hills in Havertown to allow for the widening of West Chester Pike (PA Route 3) to 4 lanes, although street view makes it seem like the median is pretty wide out to Newtown Square even now. The line to Strafford was abandoned in 1956, and in 1958 the West Chester line was entirely bustituted, although tracks were kept for non-revenue yard moves until 1971. In 1960, Merritt H. Taylor retired, passing the company on again to his son, Merritt H. Taylor Jr. Finally, the line to Ardmore was bustituted in 1966.
While all of this was going on, transit in the US was making a slight return with public subsidies now. SEPACT, which later became SEPTA, was formed in the 1960s, but the apparently conservative Taylor family refused to work with public agencies, believing that transit should be self-sustaining. It had been profitable for the family for over 50 years, but facing subsidized competition and higher tariffs from counties to use their roads and terminals, the Taylors sold the company, with its 3 remaining rail lines, the 100 (Norristown High Speed Line), 101, and 102 to SEPTA in 1970.
SEPTA
After a rocky start involving an employee strike to being owned by a public agency, not much has changed since. It seems like with all of these systems, the modern operator hasn't done anything… New cars from Kawasaki were finally ordered to replace the aging fleet of Brill and St. Louis cars from the 1930s and 1940s, which were delivered from 1980-1982. With the new cars came the switch from trolley pole operation to pantograph operation. There seems to have been some track reconstruction at various points in time. Express service, stopping at only Landsdowne Avenue on the trunk, was removed from the 102 in 2012 and the 101 in 2018.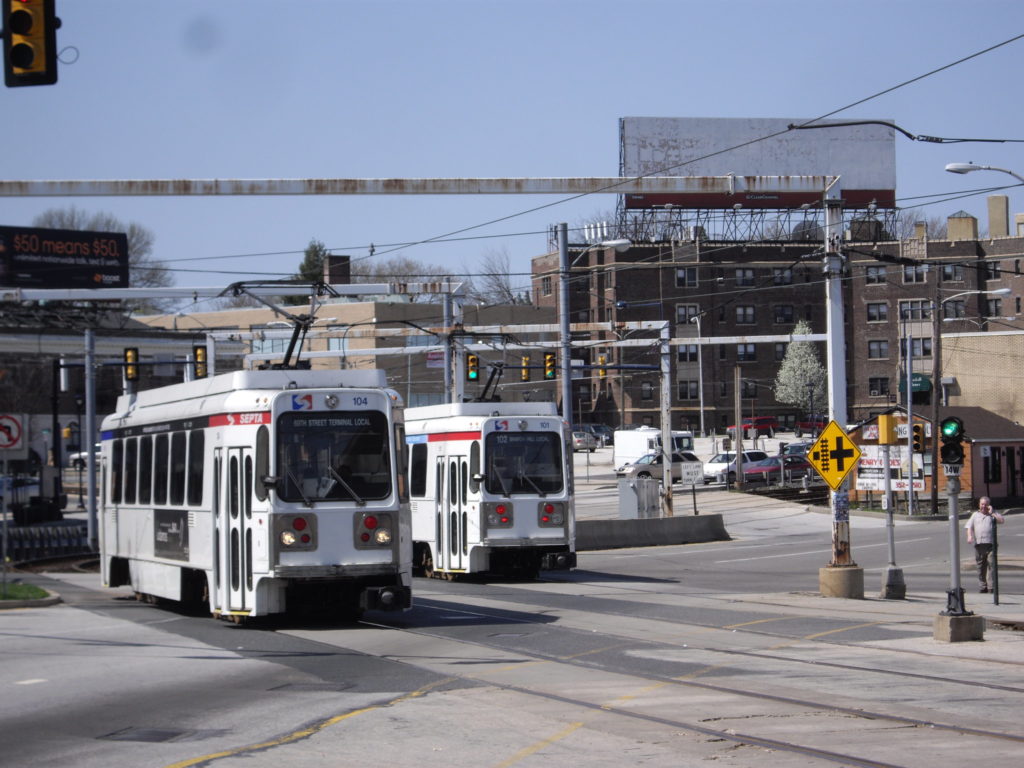 Analyzation
How does this unique, privately-owned-for-a-long-time, relatively old-fashioned system hold up today?
Frequency: Frequency is pretty bad on the branches, especially considering the relative density of the suburbs the 101 and 102 serve, although ridership is pretty low at only 3,844 and 3,888 riders per weekday respectively, 19From the SEPTA Route Statistics 2020. and also, the single track segments are very restrictive, though there are proposals to double track segments of the 101, which would not be very high cost.20A random one I found from a search.
Intermodality: This used to be a terrible route for intermodality, as transfers to the MFL were needed to get to downtown, which, while usually fine, was a huge pain with SEPTA's policy of no free transfers. This seems to be being fixed with the new SEPTA Key card, SEPTA's new fare card, which offers one free transfer and then discounted transfers, although, there are only fare machines at Drexel Hill Junction and 69th Street, and a few at retail locations around the 102, making it hard to load money. The 102 has a transfer to the Media/Elwyn Regional Rail line at Clifton Aldan, while at both Media and Sharon Hill, the trolleys stop just short of Regional Rail stations, although those aren't really transfers people will make. There are also a few bus connections, notably the giant hub at 69th Street, as well as few routes in Media, at the Springfield Mall, the 109 at Baltimore Avenue, and the 113 at MacDade Boulevard.
Character: The many grade crossings don't seem to slow down service much, as many seem to be quiet, or at major stations where trains will have to stop for a while anyway. When separated from traffic, the right of way is almost always tree-lined, with houses or a street tightly-packed on both sides, although there are also sections of the 101 near the Springfield Mall that are running through straight woods. The end of the 102 at Chester Pike is a pretty wide suburban road, while the end of the 101 is very unique, and seems like a great place for conflicts with traffic, although videos online make it seem like trolleys can still get up to speed. Stations are simple, with most street-running stations having no amenities and stations in the right of way having benches and wastebaskets, but only shelter in the inbound direction, for the most part. The quality of the shelter varies as well, with some being these nice, quaint stone ones, and others being ugly concrete painted white and green, and still others limited to just bus shelters. A number of stations on the 101 also have parking, although very limited.
Type
This is a pretty simply Suburban Light Rail, as it is mostly on its own right of way and doesn't even enter the city of Philadelphia, and although the single track and street running sections definitely diminish the quality of the line, but not enough to make a large difference, especially with the relatively low ridership of the line. The plain stations, low frequency and lack of accessibility are also not great, but the infrastructure that is there is decent enough.
---
We hope you have enjoyed this post, if you have any questions, comments, feedback? please do not hesitate to comment or contact us.
Sources
The images have been credited to their respective owners in the caption of each image
Due to the unprofessional nature of this blog, sources will be cited in a simple manner, with no formats yet. Sources used are:
I SEPTA Philly:
Wikipedia:
Google Maps
Encyclopedia of Greater Philadelphia:
Metro Fandom Wiki: